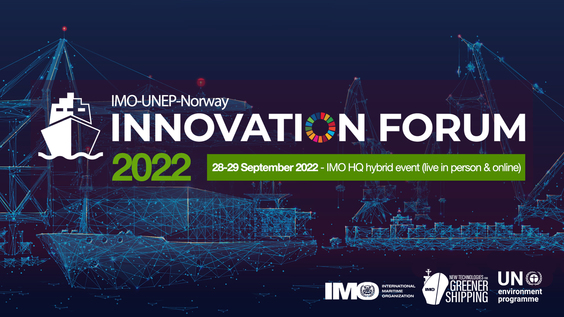 IMO-UNEP-Norway Innovation Forum 2022 (28-29 September 2022)
The IMO-UNEP-Norway Innovation Forum is a two-day hybrid global platform (in-person at IMO headquarters in London and virtual) aimed at promoting innovation to accelerate the transition of the maritime sector towards a zero- and low-emissions future.
—
The IMO-UNEP-Norway Innovation Forum will be held on 28-29 September 2022 and will focus on addressing the specific needs of developing countries, in particular Least Developed Countries (LDCs) and Small Island Developing States (SIDS). The Forum is linked to the theme of IMO World Maritime Day 2022 "New technologies for greener shipping", with a particular focus on inclusive innovation for the decarbonisation of the maritime sector.
The event is supported by the Government of Norway, the IMO Secretariat and the United Nations Environment Program (UNEP) to promote innovation by providing a global platform to exchange best practices and bridge gaps. necessary gaps by bringing together the ideas and latest developments of all relevant international actors. policy makers.
Key objectives
The Innovation Forum aims to:
– Showcasing the demonstration of green technologies and their deployment globally in a way that facilitates blue economic growth in developing regions;
– Ensure a people-centric transition to a zero-carbon shipping industry by 2050 as well as the safety and health of the maritime workforce;
– Engage in exchanges and stimulate debate around new methods of financing sustainable maritime transport;
– Bring together industry players, universities and global research centers to propose inclusive maritime decarbonization solutions for trials along specific shipping routes in the Asia-Pacific region.
Areas of intervention :
1. Address the research, technology and infrastructure needs of developing countries, in particular LDCs and SIDS, as well as the research and partnership needs to develop innovative GHG technologies and the financial needs for their piloting, distribution/market entry, especially in developing countries;
2. The need to support the green transition of the maritime sector towards a sustainable future, leaving no one behind
3. New ways of financing sustainable maritime transport