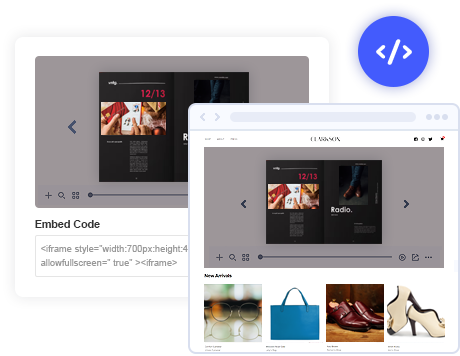 FlipBuilder's free magazine maker software creates interactive digital magazines
The software helps creators express their ideas vividly and communicate brand messages to readers.
Immersive reading experience, vivid content expression, and automatic page flipping are what FlipBuilder's free magazine maker software helps users achieve. Flip PDF Plus Pro allows them to customize their digital magazines to convey their ideas and communicate brand and product messages to people. Using the built-in templates, themes, backgrounds, animations, and other media elements, they can turn their PDF magazines into dynamic and lively online publications that audiences will love to read.
Free magazine maker software can create stunning business, learning, fashion and entertainment magazines. It offers a faster way to share stories with the world, and one can update them regularly even after they are published. Working with the software is easy even if one has no design skills. Flip PDF Plus Pro has tutorials that beginners can follow and create their magazines in no time. The best part is that all the necessary features are available in a simple and easy to use interface.
"At Flip PDF Plus Pro, we provide a wealth of options to make your magazines engaging for your audience," says Ivan Leung, CTO of FlipBuilder. "In addition, you can sell your magazines directly online using a shopping cart. Post monetization is a simple process that allows you to set prices and customize the pages you want to sell. We also give you the options that will help your customers complete their purchases by making direct payments or adding the posts to a cart. You can set payment options online and let them pay directly from the magazines. »
Flip PDF Plus Pro offers multiple output formats for offline and online magazine reading. Creators can publish their posts in HTML format by uploading their creations to their servers. This generates a link that readers can use to open magazines. The other option is to publish projects as WordPress plugins. Once the plugin is installed on WordPress, they will publish their magazines on their websites to make them accessible to readers. Other output options of the free magazine maker include publishing in APK, application, and EXE formats or uploading them to the FlipBuilder server.
To find out more information about this free magazine maker software, stay tuned to FlipBuilder.
About FlipBuilder
FlipBuilder is an innovative and professional digital publishing platform, providing the best solution to convert static PDF files into a beautiful online flipbook. From design to delivery, we focus on ease of use and operating power. Unlike traditional print publications on paper, you can create a stylish digital magazine online in several steps.