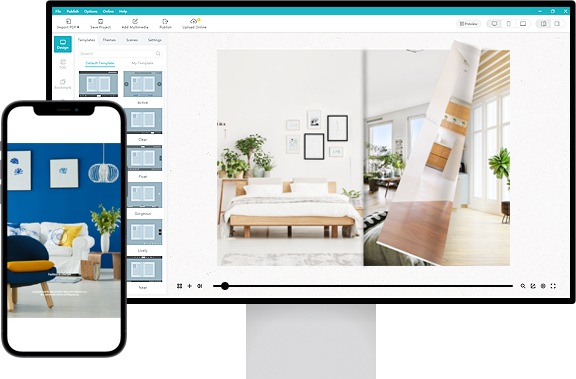 FlipBuilder Provides Free WordPress Flipbook Plugin for Better Reading Experience
"Free WordPress Flipbook Plugin"
The plugin allows e-catalogs to be integrated on the website so that more readers can access them anywhere on their smart devices.
In this fast-paced era of shrinking attention spans, PDF files have become boring to look at because every page looks alike. However, with flipbooks, things are different. Flipbooks capture the reader's interest and allow users to experience a more interactive and fun way to read without having to download PDF files. FlipBuilder's free WordPress flipbook plugin makes it easy to create digital publications for a better reading experience!
Flip PDF Plus Pro is the first-class free flipbook WordPress plugin software to create unique and interesting flipbook. Page flip effects will impress the target audience with attractive effects. Plus, its intuitive interface allows users to choose from an extensive library of magazine-quality templates, add and edit text and images, and then publish the finished flipbook in various formats, all without the need for additional software. .
Flip PDF Plus Pro is the best free flipbook WordPress plugin software to turn PDF documents into professional online publications with just one click. This free WordPress flipbook plugin tool removes the complexities of creating and uploading posts, making it accessible for anyone to sell content on their website.
"With powerful features, Flip PDF Plus Pro enables users to create, convert and publish interactive magazines, catalogs, brochures, newsletters, etc. So whether you want to post on a blog or social media website or sell it through an online marketplace, your audience will really enjoy reading your posts in full-screen mode," says Winston Zhang, CEO of FlipBuilder.
With Flip PDF Plus Pro, users can make their posts responsive and increase their chances of appearing and getting noticed in search results, among other content. Moreover, this software is unmatched with responsive display technology that automatically formats posts for easy viewing on any device or screen.
To learn more about this free WordPress flipbook plugin, visit FlipBuilder.
About FlipBuilder
FlipBuilder is an innovative company that constantly develops digital publishing software products using the latest technologies. It boasts of a wide range of software to be used in various industries and niches.
Video link: https://www.youtube.com/embed/sFxLq23m0RA
Media Contact
Company Name: FlipBuilder.com
Contact person: Customer service
E-mail: Send an email
Call: +86 020-61972665
Country: China
Website: https://www.flipbuilder.com/