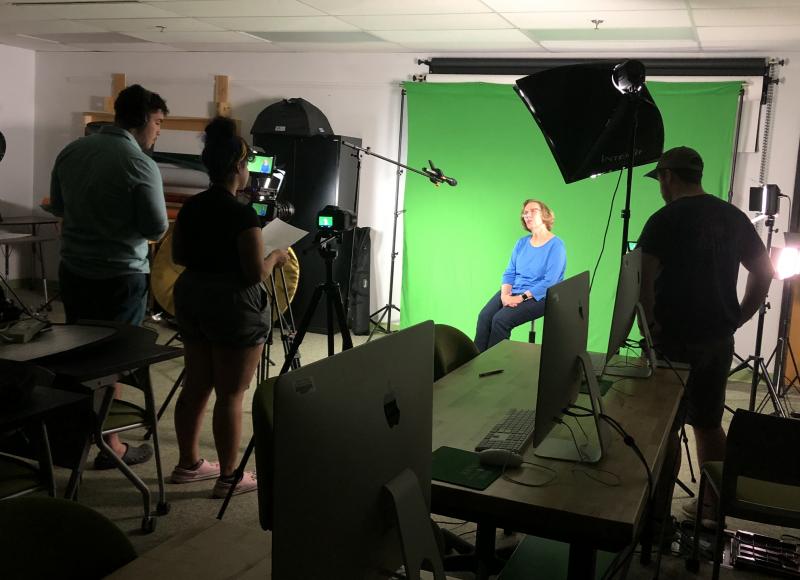 Delaware Tech students work with nonprofits in Milton
Delaware Technical Community College visual communication students in the class of 2022 completed their program-specific studies with applied practice classes that gave them valuable experience and benefited two local nonprofit organizations, Milton Arts Guild and Milton Community Food Pantry.
"The Applied Practice course is a fantastic experience for our students," said Patti Bishop, Director of Visual Communications. "It gives them an independent real-world experience with guidance from an instructor. They learn how to interview and present to the client in a professional manner while having to meet deadlines, work as a team and solve the problem for the client."
Bishop worked with students assigned to Milton Arts Guild as they created a new look for the organization's printed materials to visually communicate the guild's evolving identity. The items created were a two-sided backing card, show program, tri-fold brochure, poster, yard sign, educational flyer and Facebook posts.
"We couldn't be more impressed with the students at Del Tech under the guidance of Patti Bishop," said Sue Dutton, Chair of the Arts Guild Board of Directors. "They were able to capture our essence very quickly in their designs by not just listening to us, but really listening to us. They showed great patience, good humor, professional level composure and stunning results.
Instructor Leif Osmundson was the faculty lead for students working with the Milton Community Food Pantry. This group provided photography and videography, graphic design, web design and development, and video editing to create video advertisements and presentations as well as images for use on the website, social media and on printed publications.
Additionally, students developed social media posts and templates as well as new brochure designs, and designed and built a WordPress website that can be self-managed by individuals in the pantry.
"We really enjoyed working with the applied practice students. They were responsive to the Pantry's needs, and their creativity and enthusiasm for our project was inspiring," said Donna Murawski, Pantry Board Chair. "As a non-profit organization, the Milton Community Food Pantry relies entirely on volunteers, and the students were able to provide us with an updated website, Facebook presence, video and brochure, which are all invaluable tools for getting our word out. This project has been a great experience and we would recommend the program to anyone.
"This course is a hugely beneficial experience for students and local businesses alike," Osmundson said. "Companies receive faculty-guided photography, videography, and design assignments, while students meet with clients and generate project briefs, craft brand guides, walk through milestones and iterations, and then publish their campaigns in the formats that best serve customers and their potential patrons. Having work that has been used in the real world also builds the strength of student portfolios. »
Companies and organizations interested in more information about the application process to work with Delaware Tech's Visual Communications Department can contact Patti Bishop at [email protected]